My students very often are interested if I practice solo jazz dance: what, how and how often.
I am a solo jazz dancer, that's my life, love and profession. Oh yes, I practice. It's the best way to discover things and improve. I practice solo jazz dance physically and mentally. As often as I can. Normally I work on the weekends: jazz festivals, swing dance festivals, dance intensives. That leaves me 2 – 3 days during the week when I dedicate 1-3 hours per day for my self-practice. Love it! I can develop new ideas, do some new exciting stuff, just be always in form. In addition, I go to other dance classes: afro, tap, house. It is a practice as well. That gives me a gigantic source of inspiration and a different point of view! In this blog, I share some general practice tips with you.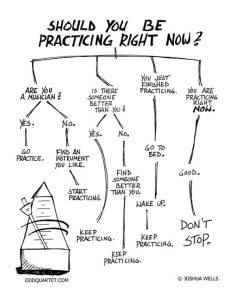 Before I thought that practice can happen only when you are in the studio, physically dancing. Though mental practice is a way as well. Watching videos, listening to music and rhythms, imagining yourself dancing this or that way is a great way to improve. They say that mental practice is almost as effective as physical.
Let's talk about some general practice tips for physical practice for I am sure we all can do the mental part very well :
Book a space, schedule your solo jazz dance practice!
When you are self-employed it's so easy to change your mind. One second ago you want to practice, another second you see it's sunny and decide to go out for a swim (well. if you are in Barcelona like me :). When you book a studio, schedule it, will be harder to change. Usually, I book or find a studio. Sometimes I do it at home. But the act of dedicating time and going somewhere for a specific amount of time where you can do nothing but dance is motivating and organising to me. Number one of the general practice tips.
My solo jazz dance practice plan looks like this:
Warm-up & get in the zone
Little improvisation to get in the mood and feel my body
Do the task• (will talk about that below)
Finish with improvisation
Quick cool down / stretch
I come to the studio and start by warming up. Maybe 10 -15 min will go just for stretching and feeling my body. Where am I today? What body am I working with for the next hours? Some days you are more stiff or tired than other days. It's good to take this in consideration and to respect that. I have my own little selection of exercises for warming up, I am sure like every dancer. I make sure to breathe deeply while stretching to warm up from the inside. Put on my favorite tunes to get in the mood always helps.
Set a task!
Once I am warm I go straight away to practice tasks. Some important things while practicing, that I learn from other great people: musicians, dancers, artists. Kenny Werner made a big change in my life with his lecture on practicing in jazz. It's more 1h+ but it's one of my top lectures on jazz. Here is the link: A Master Class in Jazz Performance and Creativity with Pianist Kenny Werner
Here are some of them I always use or try to remember as a guide:
1. Have a focus in your solo jazz dance practice
I find it quite important to set the goals of my solo jazz dance training in advance. I book my studio for ca. 2h usually. It's not much time to allow to bounce off the walls and do nothing. When you practice alone, clearly you are the only one who is in charge. If you don't set up a task/ schedule/ timing, no one will. Be your own boss! The best way to practice is to limit yourself and not to practice everything. Practicing everything, in the end, is not practicing. You work on something small and that significantly improves the overall dance.
Here are some of the common reasons/ tasks for personal training that I use:
Practicing/ remembering choreography

Composing something (be in sketches or a new chore or a little routine)

Working on rhythm, time signatures

Working on something new; be it movements, style etc..

Working on quality

Practicing dancing to different speeds

Practicing improvisation…. etc.
Define what you want or need to do, set the goal/ task and time! For example, Practicing/ remembering choreo or a few of them, reviving overall choreos, 1h. Or working on time signatures, get sketches for new choreo in 3/4, 1.5h.
2. Don't judge/ punish yourself for not standing up to your expectation immediately
This one I need to remind to myself quite often to be honest. One day the things flow and everything works. The other day, you can't invent anything, all you do seems to be boring, you can't even make a proper turn and not stumble. It's ok. Accept and move on. Maybe make the practice that day short and go have a tasty coffee with a friend. The word immediately is important here. If you have a solo jazz dance practice date with yourself regularly, say 2-3 days a week for 1 – 2 hours, you'll see the improvement! It's just not possible not to improve! Regularity is the key.
3. Play! Make solo jazz dance practice a game
That is super important! If the practice is something boring and hard you will simply never practice. Make it your personal playground. For me, I don't have to put much effort into making it a game. I love to dance so much that simple action of moving my leg to music makes me happy.
Here is a video of my practice.
Hope these were useful general practice tips on how to practice solo jazz dance! And what's your experience with practicing? Would be happy to read your comments.
I will continue with Part 2: How to practice improvisation in the next blog post.
Written by Ksenia Parkhatskaya