"Flippant flapper, trim and dapper, naughty, haughty, chic man-trapper. All together now, boys, 'Has she got IT? Well, I guess. Clara! Clara! Yes! Yes! Yes!' "

The Akron Beacon Journal from Akron, Ohio
Flappers made huge leaps forward in economic, sexual and political freedoms for women. Colleen Moore, Clara Bow and Louise Brooks were the 3 most famous flappers in Hollywood in 1920's. They inspired the change for generations of young women to come, of how women were perceived and how they could act.
Thinking about women in America in the early 20s, we tend to immediately identify them with the iconic character of the flapper. Flapper brings up the image of slender women in short, straight dresses, long beaded necklaces, and bobbed hair, drinking gin and dancing the Charleston 20s. As Joshua Zeitz says, the flapper was most certainly a type, a "caricature", one part fiction and one part reality, with a splash of melodrama for good measure.
The flapper is the symbol of the "modern" woman, who breaks out of the rigorous criteria of the Victorian Pre-War female model. She is claiming economic, political and sexual freedom enjoying the pleasures of life, dancing in the night club and listening to Jazz music. Flappers became the main cultural and historical trend of the Jazz Age. They were widely discussed in newspapers and magazines, sometimes critically and sometimes glowingly. There were flapper cartoon characters, flapper-themed songs, and plenty of cheeky slang was entering the public lexicon. And, of course, the new youth culture was a hot trend in Hollywood-land films.
The 3 famous flappers on silver screen
Flapper culture was arguably big business for Hollywood right up to the end of the Jazz Age. Hollywood in turn certainly had a major influence on flapper fashion and popular pastimes. You can't help wondering whether films were imitating real-life flappers, or whether flappers were modelling themselves after what they saw on screen. The "flapper film" genre developed from 1920. With the film "The Flapper" starring Olive Thomas ( until 1929 when Clara Bow played her last flapper role in the Dorothy Arzner film The Wild Party (Ross 2000), testifies the pervasiveness of this figure in the imagination of the time.
"The flapper has charm, good looks, good clothes, intellect and a healthy point of view"

Colleen Moore
Colleen Moore, "The Perfect Flapper"
Colleen Moore, born Kathleen Morrison in 1899, was the first sensational famous flapper on screen. She took her first step in Hollywood at age 15, and began her career during the silent film era. The turning point in her career came with a story called Flaming Youth (1923), which had been a scandalous, best-selling novel about "neckers, petters, white kisses, red kisses, pleasure mad daughters, and sensation craving mothers." Colleen wanted the role of wild daughter Patricia Frentiss badly, so with the help of her mother she overhauled her screen image. Gone were the long curls, her mother cut her hair into a Dutch bob.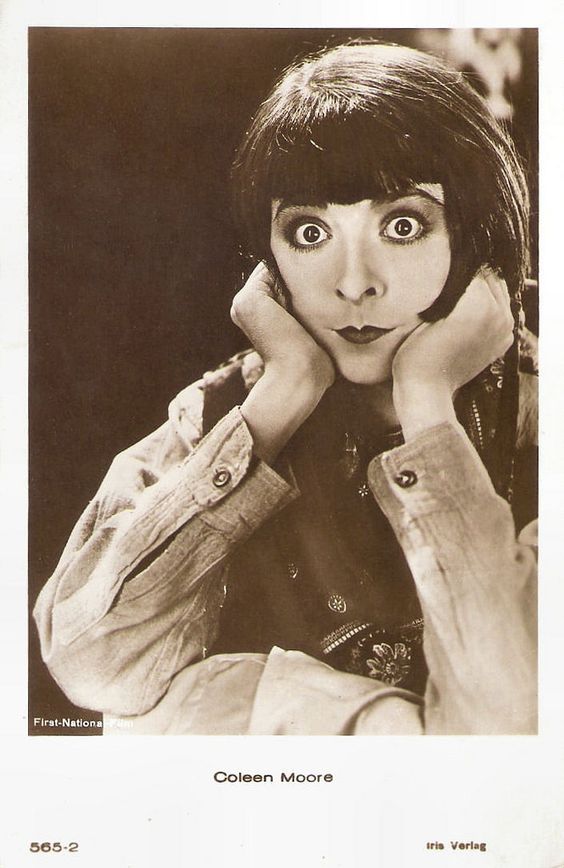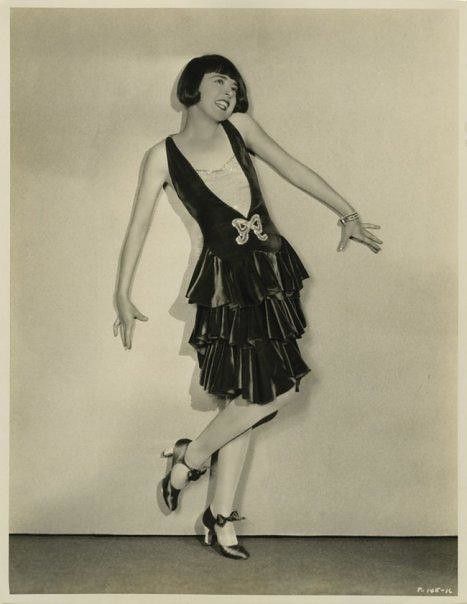 Colleen got the role in "Flaming Youth", and with it, she created a new screen type– the emancipated young girl who defies convention. She defined the Roaring Twenties with her bobbed hair, short skirts and rebellious nature. As F. Scott Fitzgerald later wrote, "I was the spark that lit up Flaming Youth, Colleen Moore was the torch. What little things we are to have caused all that trouble."
Clara Bow, "the ultimate flapper"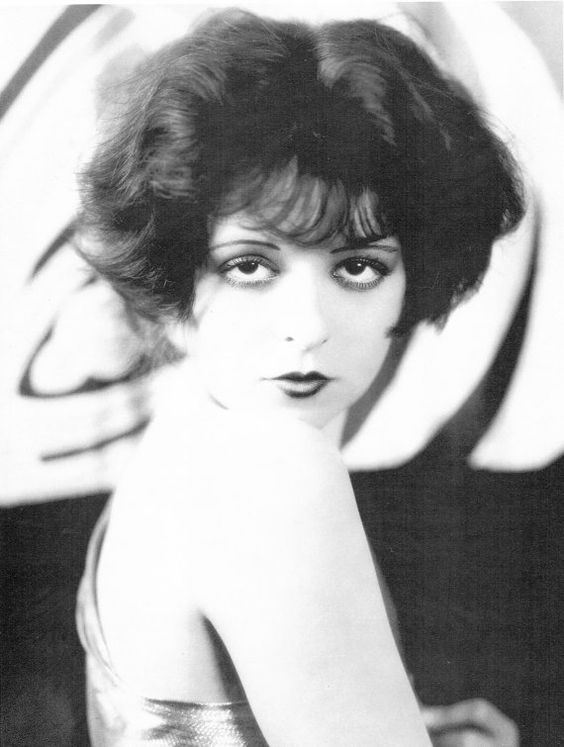 Second of the 3 most famous flappers is Clara Bow. Miss Bow has never left the American and Western cultural imagination: she is perhaps the diva who more than any other has decreed the eternal charm of the flapper. There is something vital that conquers in her presence. It is the spirit of youth. She is a rampant Young American, the very symbol of being a flapper "(Clara Bow, Running Wild, Stenn 1988: 48).
Bow's appeal had many facets. The writer Elinor Glyn describes 'It' as warmth, charisma, vivacity and apparently effortless charm. And in that sense, Bow was undoubtedly an It Girl and appealed to both men and women. There hasn't been another one like her. Not only did she have the perfect flapper face and figure, she also radiated fun and excitement and spontaneity. On-camera, she was irresistible. America fell in love with on screen image of Bow because of her big-eyed, baby-faced beauty, but also because she was carefree, energetic, self-assured and breezily independent. Off-camera, she was 100 percent real at all times. (Deborah Kennedy about Clara Bow).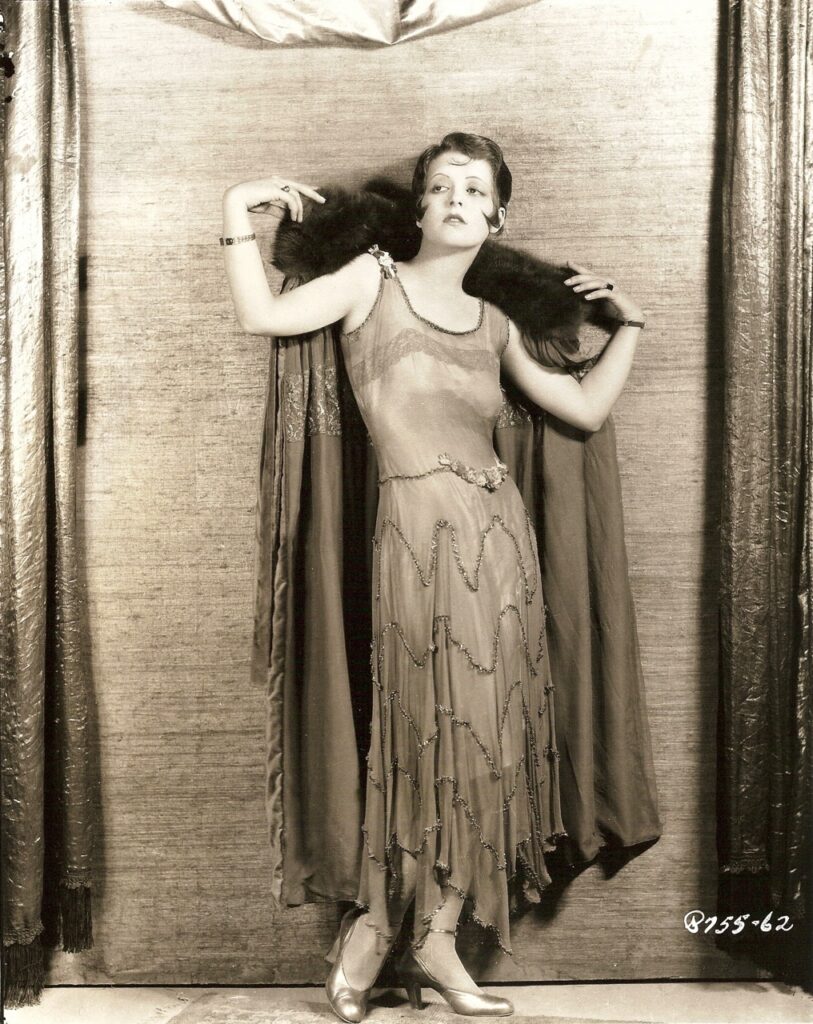 Having "it" means having a natural sex appeal, a vital magnetic force that attracts people. With "it" you conquer all men if you are a woman and all women if you are a man and Bow had it!
The turning point of her career was in 1927, when she starred in the silent movie "It", playing the part of Betty Lou Spence. "It" turned Clara Bow from an up-and-coming movie actress into the biggest movie star of the 1920s who in the process became a film legend as a result of "It".
Louise Brooks, "sex symbol flapper"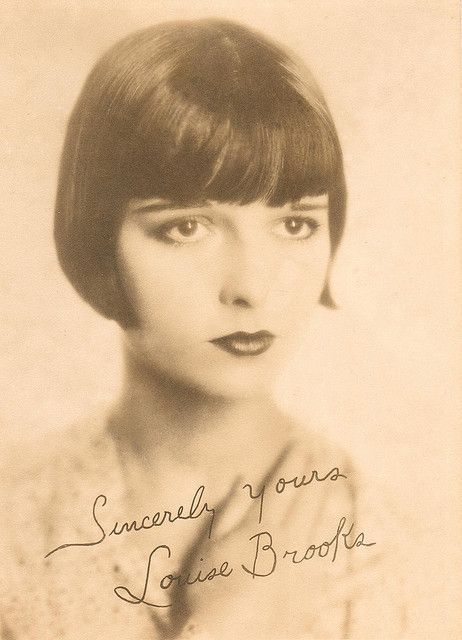 She had that crisp pageboy bob, she had those strong, straight eyebrows, unlike the coy arches of her contemporaries. She was so slender and fit she seemed poised for flight. The most extraordinary things happened to her in her best films, and instead of visibly reacting and telegraphing emotions, she acted as the instrument to transmit them to us.

(Review: "She doesn't act. She does nothing. Rogert Ebert)
The 3rd famous flapper figure on our list is Mary Louise Brooks. Louise Brooks was an American Jazz Age icon, Hollywood actress and dancer. Her innocent eroticism, along with her pale beautiful features and bobbed brunette hair, her rebellious temperament, her witty jokes and bold sincerity made her both a film icon and a symbol of the disdainful flapper of the 1920s.
She started her career as a dancer, she was the youngest member of the Denishawn Dancers. Joining the troupe and traveling to New York City to pursue a career in dance at just 15 years old. After an argument, she left the company and found employment as a chorus girl in George White's Scandals and as a semi-nude charleston and burlesque dancer in the Ziegfeld Follies in New York City. While performing she came to the attention of Walter Wanger, a producer at Paramount Pictures, and was signed to a five-year contract with the studio.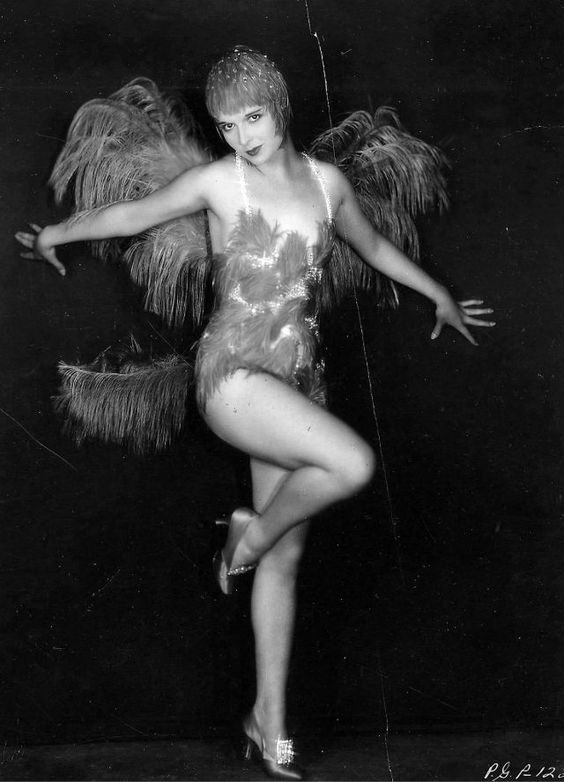 After starring in a few Hollywood productions she moved to Berlin, where Georg Wilhelm Pabst hired her for the role of Lulu in "Pandora's box". Lulu embodies the myth of the fatal woman: sensual, provocative, fearsome in her amorality but at the same time, like the spirit of the earth, an instinctive and immediate purity, natural in her quintessence. An authentic flapper in its essence!
Check this Documentary about Louise Brooks (minute 18.02 you can see some Charleston 20s dance):
How did 3 symbolic flappers change the image of a woman?
Colleen Moore, Clara Bow and Louise Brooks were 3 of the most famous flappers, powerful female sex symbols, in Hollywood. They are the flapper women who inspired generations of young women, who started imitating their looks, their sexual appeals and independence, their self reliant behaviour and aptitude. These flappers were greatly idolised by young females who began to believe there was more to life than being a housewife or stay at home mom.
Young females showed society that they were capable of becoming independently strong and making decisions on their own. Adolescent females knew that when they changed their lifestyle, they would be portrayed and perceived differently. They knew changing their lifestyle and ideology was the only way to gain equality even if society did not readily accept the change. It is worthy to note society did not seem too fond that flappers depicted the lives of young females who were independent, rebellious, and unfazed about how they were perceived.
The flapper, despite her notorious frivolity, was also a version of the "new woman," who fought for independence, equality in marriage and pay and a political voice.
How these 3 famous flappers decided to approach life and change their own image became the starting point of a revolution, a milestone of what will be later called "feminism". Flappers receded from American life after the Great Depression pulled the plug on all the revelry. With the rise of feminism in the 1960s they enjoyed a bit of a revival, but were remembered largely for their racy fashions and short skirts that were a symbol of sexual liberation.
Feminists had an understandable, get-down-to-business side that was fiercely at odds with the flappers' devotion to a prolonged adolescence. A flapper cheerfully called herself a "girl," whereas feminists disdained the word as an insult. Linda Simon, author of "Lost Girls: The Invention of the Flapper", claims that women of the Roaring Twenties had a lot in common with today's millennials. Many young feminists embrace the flapper's sassy, independent spirit of seeming to play at adulthood, and are perfectly comfortable referring to themselves as "girls".
"Flapper styles may be relegated to costume museums, but the flapper spirit lives again after a hundred years" (from "Lost Girls: The Invention of the Flapper")
References:
Clara Bow: Runnin Wild by David Stenn, 1988
Lulu in Hollywood Brooks, L., 1974,New York, Alfred Knopf.
Lost Girls: The Invention of the Flapper by Linda Simon
Flapper: A Madcap Story of Sex, Style, Celebrity, and the Women Who Made America Modern by Joshua Zeitz
Flappers and Philosophers by Scott Fitzgerald
About flappers and Hollywood:
Flappers. Women's independence.
Silents Are Golden: Flapper Culture in the Films of the Roaring Twenties
Fabulous Flappers of the silver screen.
Dive at work: working girls and strong women in American silent cinema. The case of Clara Bow, the "It Girl"
A portrait of: Louise Brooks
Colleen Moore: The Girl Who Personified the "Flapper" of the 1920s
Clara Bow. The original "IT" girl
History of dances in 1920's:
History of major classic jazz dance steps
Written by Martina Maddalena
Co-writer and editor: Ksenia Parkhatskaya